Celebrating Cohort 14 Successes!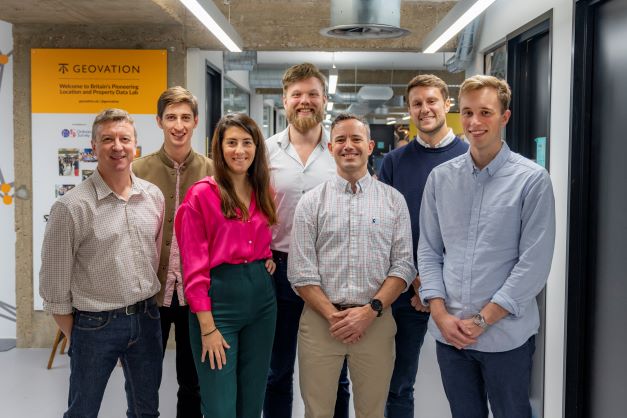 Cohort 14 of our Accelerator Programme recently graduated from the Programme and it was great to hear what they achieved at our Showcase event.
We're delighted to share what our GeoTech and PropTech start-ups achieved whilst on our Accelerator Programme! Hear more about the start-ups and their achievements below.
GeoTech Track
The GeoTech track of the Programme is supported by Ordnance Survey.
Honeycomb Network
There are 1 million e-scooter users in the UK but there is no public spaces to safely store your e-scooter, including in offices, retail shops and supermarkets. Honeycomb are on a mission to change this. Introducing next-gen storage and charging, universal charging and storage pods for electric scooters.
Achievements
Developed and built first Honeycomb e-scooter charging pods with 10 Squared Ltd, ready for compliance testing and piloting
Built MVP beta for mobile app, developed with support from OS tech team
Completed an R&D grant-funded project to explore and test an e-bike charging station
Streamlined business development with refined strategy and improved integration with tools, such as Hubspot
Accepted onto EIT Urban Mobility E+Mobility accelerator, which opens doors into European market, particularly for Spain
Accepted into Paris&Co Urban Lab Incubator, which opens doors to tackle French market
Incorporated French subsidiary for European business
How they have benefitted from the Programme
Programme sessions (mentoring and workshops) have helped with the business strategy, including in terms of the: business development/sales tactics, financial modelling, pitching and preparation of investment deck materials
Collaboration with the Geovation and OS tech teams has been a useful and reliable back stop for software development, in particular for implementation of best practises and geospatial package usage
Geovation supported Honeycomb in working with the property/real estate industry, by getting connected with useful contacts in the network and becoming more aware of the problems/industry
They're currently seeking investors, commercial partners and advisors. Find out more about Honeycomb Network here.
Soil Benchmark
Soil Benchmark are harnessing farm data to restore soil health. Their software enables soil friendly farming. Allowing farmers to visualise, analyse, and benchmark their own data. Giving the agriculture system the information it needs to makes soil-centric decisions. Soil Benchmark are on a mission to make sure farmers' data works for farmers' soils.
Achievements
• Launched our platform with more than 65,000 acres of UK farmland now using it
• First revenues from farmers using our analytical tools
• Raised over £100k in grants and investment during the programme
"We started Geovation with 1 founder full time and an idea. 6 months we have 2 co-founders, a platform used by farmers across the UK, revenues, and partnerships with some of the biggest agricultural research institutions in the country. We couldn't recommend the programme and team highly enough – it gave us the support we needed to grow from just an idea into a business".
Archangel Imaging​
Archangel Imaging are making autonomous machines smarter, more resilient and easier to work with as teammates. They're operating in huge, growing marketing building critical tools that scale and their sales are rapidly growing.
Achievements
Progressed Xnaut with global GEOINT with OS technical support
Expanded the team in the UK and overseas – currently have 23 team members
Established US presence and live in BD pipeline
Exceeded, then doubled sales targets ($2.5m to $5m)
Secured first investment (US)
Progressed subscription models
Raised $1million external investment in US
New projects launched (Sea++, NATEP, ATOM)
Products used by the military in the Army Warfighting Experiment
MOUs signed (Airial robotics, UAVAid, Circle Optics)
Grew our advisory board with major industry and govt figures
Can expand further (or shrink) depending what you guys are looking for
They're currently hiring and welcome conversations with aligned investors preparing for A round in 2023. Find out more about Archangel Imaging here.
PropTech Track
The PropTech track of the programme is supported by HM Land Registry.
Collaborative Conveyancing​
Collaborative Conveyancing are making complex simple through a predictive response service to improve the conveyancing enquiries process. They have developed an enquiries super assistant that uses natural language processing (NLP) and process automation to recommend actions. Their aim is to reduce the current 5-6 month transaction length by one month, create 17% additional conveyancer capacity for property lawyers and decrease in £230m wasted fees each year for buyers and sellers.
Achievements
NLP prototype – Built first version of conveyancing enquiries Natural Language Processing (NLP) Model.
Built cloud-based tech infrastructure to facilitate NLP-model data processing requirements
Grant Funding – Awarded funding to run NLP project with Hartree Centre – part of the Science and Technology Facilities Council and home of the National Centre for Digital Innovation
Employee growth – We have grown from a team of 3 to a current team of 5
Obtained letter of client intent from a large conveyancing firm
Secured SEIS / EIS Advanced Assurance status
How they benefitted from Accelerator:
Being part of a community of other start-ups in similar position to us (cohort) and also being part of the wider Geovation community – shared experiences, challenges, solutions, ideas sharing, contacts, etc.
Access to expertise and resources at Geovation
Network of contacts and suggested resources connected to, associated with or just well known to Geovation – has helped to explore relevant actions in a more conveneient and efficient manner
Programme of workshops – some reinforcing existing skills, some introducing new ones; some more traditional in their delivery, some more different (which is a good thing). All have been of value.
Access to workspace – at hub and at partner locations which has been useful for us being a geographically spaced, fully remote team.
Requirement for regular review of progress – has provided a useful regular focal point for us to stop and check our progress – what's worked and what the next steps are. The independent review and feedback obtained has been helpful.
Pluto​
Pluto is automating staircasing transactions for Shared Ownership and has created an app that allows you to save whilst renting. The UK government is forcing social landlords to automate staircasing in Shared Ownership by January 2023.
Achievements
Over the first six months on the Geovation program, Pluto went from being an early stage idea into a business with committed VC funding.
This involved a lot of product discovery and networking, with some help from the Programme Manager, Valentina, in terms of introductions, particularly to Mark Prisk, ex Minister for Housing who has been hugely helpful in opening doors to potential clients.
Benefits of Geovation
The Geovation development team carried out some paid development work which helped launch the MVP quicker and have been a supportive presence during the initial stages of the development process.
Having a weekly catchup with the other founders was a great way to stay accountable and keep an eye out for what is possible for those who work hard, and I have developed great relationships with the other founders as well as other Geovation members.
Find out more about Pluto here.
Zero Down Lease
Zero Down Lease is making leasehold fair for all. They have a 60 second lease extension calculator will tell you exactly how much money it will cost to extend your home's lease.
Achievements
Expanded the team from 3 to 8
Got regulated by the FCA and PRS
Tripled our monthly sales
Automated 70% of the core processes
Speaking of the Programme, Co-Founder, CEO of Zero Down Lease said "Geovation was an incredible resource for us. When we joined we had the an idea which we had validated with a few paying customers, by the end we had a business with product market fit. Through the support of the various mentors and other founders expertise we were able to triple our monthly sales and are on track to hit a £1mil in annualised revenue by December."
Find out more about Zero Down Lease here.
Accelerator Programme
Applications for the next cohort on the Accelerator Programme open soon on 15 December. Find out more here. If you're interested in applying, register your interest here.