Introducing our Award winners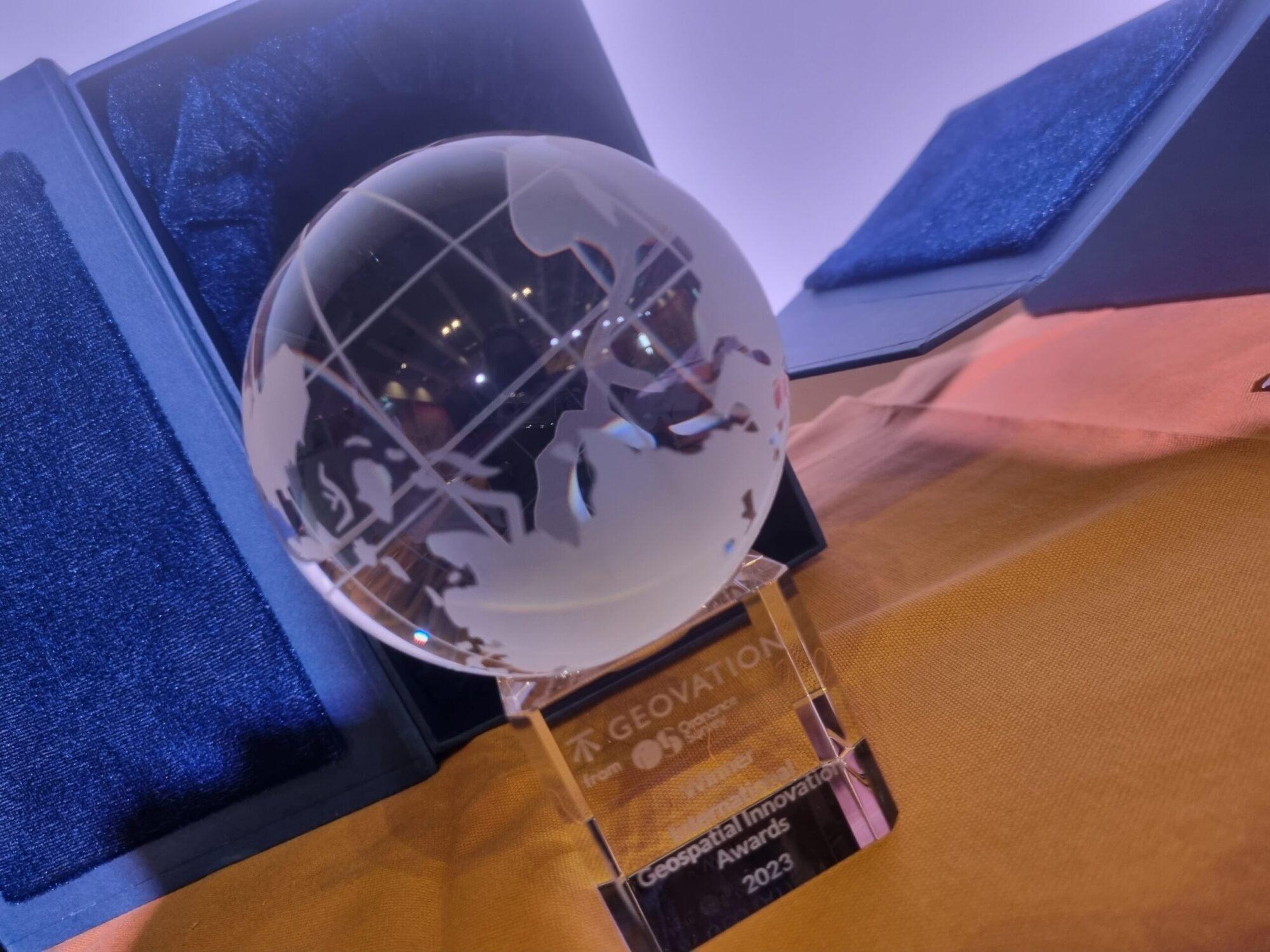 With nearly 100 entries, spanning 26 different countries, and showcasing the powerful impact geospatial has on the world around us, we are pleased to announce the winners of the first International Geospatial Innovation Awards!
Our fabulous judges had the unenviable task of declaring a winner across our four different categories. The standard was incredibly high, and range of projects and ideas on show really demonstrates how geospatial is shaping the world around us now and for the future. But there can only be one winner (and a highly commended!) in each category…
Places for the future
This category showcases solutions that help build the cities and communities of tomorrow.
Winner: Where You At
WYA solves the frustrating problem of losing friends in busy venues. With precise indoor mapping capabilities, users can locate their friends down to the floor-level, bar, or cubicle. WYA works without phone signal, and includes timestamped SOS alerts – helping make nightlife safer for everyone.
Highly Commended: The Future Fox's Create-a-Town feature
The Future Fox is a UK social impact technology SME on a mission to accelerate the development of smart, sustainable and people-focused places. We are proud to have worked on some of the most ambitious and innovative digital engagement projects in the UK. The Future Fox has launched a new, transformative feature for their digital engagement platform, PlaceBuilder. For the first time, communities are being brought into the challenging discussions on the trade-offs in designing new developments, via a fun, 5-minute experience on their mobile phones.
---
Land, sea and air
This category rewards development that helps preserve and protect the environment around us.
Joint Winner: UP42
We founded UP42 in 2019 to provide quick and easy access to optical, radar, elevation, and aerial data. Our APIs and Python SDK enable customers to build and scale their solutions. UP42 is the one-stop-shop for all geospatial data. The direct impact of easier and quicker access to high-resolution satellite imagery has made it possible to improve livelihood of cities and communities across the globe.
Joint Winner: The Earth Genome
Global Plastic Watch uses satellite imagery and deep learning to identify, measure, and monitor plastic waste sites on land, supporting local communities and national agencies with the data required to stop plastic before it enters our oceans.
Highly Commended: gtfs2emis
IPEA is a policy-oriented research institution dedicated to conducting studies from health and education to urban, environmental, and macroeconomic policies.; while the INPE aims to foster scientific research and technological applications in the fields of space and atmospheric sciences.
Measuring the environmental benefits of transportation policies and interventions is a hard task, particularly in emerging economies where the lack of data is a common problem. Here we present the gtfs2emis model, a novel bottom-up method to estimate emissions from public transport systems.
---
Resilience, safety, resource quality & protection of life
For solutions that help people, communities and countries affected by conflict and natural disasters, and work towards a world where poverty is eradicated, no one goes hungry and everyone has access to clean water and sanitation.
Winner: WorldPop
WorldPop maps populations across the globe to ensure that everyone, everywhere is counted in decision making. The group partners with governments and UN agencies and has produced almost 45,000 open geospatial datasets, complementing traditional sources with dynamic data for mapping populations.
Highly Commended: Cirrolytix Research Services
Cirrolytix is an innovator in data-driven health risk management. Our AEDES project predicts dengue outbreaks, and its versatile framework has applications for managing other vector-borne diseases and health crises.
---
Individual contribution to open geospatial innovation
Celebrating an individual who has made an outstanding contribution to open innovation for good through their use of geospatial data.
Winner: Dr. Qiusheng Wu
Dr. Qiusheng Wu an Assistant Professor in the Department of Geography & Sustainability at the University of Tennessee, Knoxville. His research interests include geospatial data science, remote sensing, and environmental modelling.
Dr. Wu is a strong advocate of open science and reproducible research. He has developed and published various open-source packages for advanced geospatial analysis. Furthermore, Dr. Wu goes further to engage people in his open source projects by creating countless video tutorials, to aid student and users in leveraging his work.
Highly Commended: Taslim Salaudeen
Taslim is a notable and driven pioneer in GIS technology in Nigeria, with a bachelor's degree in Remote Sensing and Geographical Information Systems. His vision is to apply Geo-Spatial Intelligence, Geo A.I to promote Entrepreneurship in order to solve grass-root problems in Africa
---
Paul French, Ordnance Survey Chief Commercial Officer commented "What these awards show so well is just how transformational geospatial data can be. It's so exciting to see the range of innovative ideas and applications being created and shines a light on the people and projects making a real tangible difference to the areas in which they operate. These awards have been truly global, and it's fantastic to see geospatial innovation happening all over the world. It's been a great event, and a wonderful celebration of the geospatial sector, and I'm looking forward to next year already!"
Watch this space to hear when entries for 2024 open!